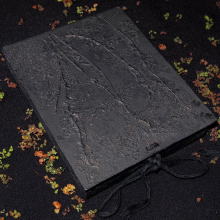 水晶の舟とヌミノスアイ CD

| | |
| --- | --- |
| 1 宇宙のきのこを探して | 13:52 |
| 2 アブクの中 | 26:02 |
| 3 海に溶けた虹 | 21:47 |
| 4 宇宙巡航 | 13:17 |
発売元
Essence Music
録音
ミックス

2007

年

9

月

16

日


Mason Jones

アートワーク

Iremir Oscar

マスタリング

James Plotkin

タイポグラフィ

Uirajara Resende
演奏者
g,vo
紅ぴらこ
g,vo
影男
ba
Mason Jones
drs
Mike Shoun











水晶の舟 / Live CD-R


1.遠雷
2.届かぬ底へ

録音 "Show Boat" 2010年10月19日
マスタリング "there"
紅ぴらこ G.Vo
影男 G
松枝秀生 Ba
内田静男 Ba
マークアンダーソン Drs

















Numinous Eye / Live And Droning CD-R


Live And Droning
Live section recorded at Red Devil Lounge on Nov 4. 2010
Drone section recorded at Beast of Baden by Willy Seekamp
Mastered Mason Jones
Mason Jones G
Mike Shoun Drs. Synthesizer
水晶の舟とサンフランシスコのサイケデリックDUO、ヌミノスアイのジャムセッションCD。 サンフランシスコで録音された、全編完全即興に拠る長時間スタジオセッション。  そして、水晶の舟の2010年10月19日のShow Boatでのライブ音源CDRとヌミノスアイのライブ音源CDRの3枚組ボックスセット。

CDアルバムジャケットは木の枝のコラージュと水彩画。
美しい艶消しの黒いボックスセットは亜麻繊維、枝、葉、有機インク(100%天然素材)で1つずつ手作りされています。 水彩とコラージュのユニークなアートカードと森のハーブの瓶詰め、キノコとハイビスカスが付属しあなたを幻覚世界を誘います。  アートワークはIremir Oscar。


Black Flowers Of The Forest In The Cosmos is also presented as an extremely limited matte black handcrafted boxset beautifully conceived and made of 100% natural materials, including soft linen, branches, leaves and organic inks.
Inside you will find the standard edition with its fully handmade packaging and artwork plus the OBI strip, a set of 6 unique art cards with a variation the watercolor-natural collage technique, a sealed vial with forest herbs and natural essences and a linen bag with a dehydrated – non-hallucinogenic, boys – mushroom. Housed on black silkscreened and wax sealed envelopes are 2 extra albums on CDR, each one with exclusive recordings from both Suishou No Fune and Numinous Eye – Live and Live And Droning, respectively.
Hibiscus scattered throughout the box gives the whole set a perfect mix of delicate scents, helping the listener to expand the inner senses and be transported to the psychedelic regions explored on the album. An unique experience. We mean it.
A piece of art strictly limited to 80 hand-numbered copies.
Also available as a standard edition.