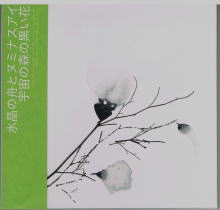 Suishou No Fune & Numinous Eye
| | |
| --- | --- |
| 1 宇宙のきのこを探して | 13:52 |
| 2 アブクの中 | 26:02 |
| 3 海に溶けた虹 | 21:47 |
| 4 宇宙巡航 | 13:17 |
演奏者
g,vo
紅ぴらこ
g,vo
影男
ba
Mason Jones
drs
Mike Shoun
発売元
Essence Music
録音
ミックス

2007

年

9

月

16

日


Mason Jones

アートワーク

Iremir Oscar

マスタリング

James Plotkin

タイポグラフィ

Uirajara Resende
水晶の舟とサンフランシスコのサイケデリックDUO、ヌミノスアイのジャムセッションCD。 サンフランシスコで録音された、全編完全即興に拠る長時間スタジオセッション。
アルバムジャケットは1つずつの手作りされ、木の枝のコラージュと水彩画。 アートワークは

Iremir Oscar

。

Titanic collaboration between Tokyo's dark and drifting psychedelic geniuses Suishou No Fune and San Francisco's tripping, free jamming guitar/drums duo Numinous Eye, lead by no other than Mason Jones, long-running Japanese psych specialist and formerly of space rockers Subarachnoid Space.

Black Flowers Of The Forest In The Cosmos is what I would call a perfect meeting. Do not expect a random afternoon jam here, but a late night, perfectly crafted mystical experience.

The drums and sometimes two of the three guitars of the line-up set the rhythmic foundation for the dream-like, fragile abyssal cries and distressing harmonica of Pirako, while gentle echoes and languid strings, spaced-out distortion and amp hums float around all corners slowly building a rich and tranced-out world of droney magic.

Not ever so gently ? loud and distorted amp-frying blissful crescendos are capable, at times, of bursting the air -, but always so hypnotic, you will be transported beyond traditional time/space conventions into the jammy, semi-motorik "Space Cruising" goodbye track to finally touch the black flowers of the cosmos.

Stunningly mastered by James Plotkin, Black Flowers Of The Forest In The Cosmos is presented on a beautiful and totally handmade and handpainted ? yes, piece by piece, each copy is unique ? sturdy textured tip-on gatefold packaging with an art technique mixing natural collages and watercolor. Includes a printed OBI strip.

This edition is limited to 170 copies only.
Also available as a boxset edition.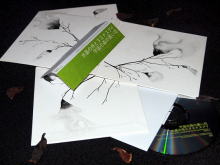 Handmade & handpainted tip-on mini-LP gatefold sleeve with OBI strip



Edition of only 170 copies CD with handmade and hand-painted gatefold sleeves with Obi strips: Black Flowers... sees Tokyo psych duo Suishou No Fune aka Kageo and Pirako collaborating with west coast American zoners Numinous Eye aka guitarist Mason Jones and drummer Mike Shoun. This really is the perfect summit, with Jones and Shoun playing extremely subtly, adding fluttering guitar tones and padding, suggestive rhythms to Pirako and Kageo's elegiac guitar ascensions. The tracks are long, fully dilated and with endless passages of slow-mo string majesty. Pirako sings in a high, blasted style and when she makes with the harmonica drones it comes over like Kaoru Abe riffing on Bob Dylan's '66 harmonica style in the company of a guitar-wielding Taj Mahal Travellers. Indeed, the combination of classic SF ballroom moves, higher-minded Tokyo underground excess and amplifier-levitating drone on display here makes this pretty much the perfect document of Suishou No Fune's outward bound style. Beautifully presented and highly recommended.
Volcanic Tongue (U.K)
http://www.volcanictongue.com



'Black Flowers...' is the collaboration between two artists of the highest experimental caliber, with the slow thunderous rhythm section of Numinous Eye and the psychedelic madness of Suishou No Fune, this is pretty heavy stuff man, limited to 170 CD's with individually hand painted sleeves and collaged with beautifully delicate filigree twigs, the music is a psychedelic dream of slow pondering drums and paranoid guitar noise, Pirako Kurenai throws in a distant harmonica and wailing vocal screams that create a certain darkness to the album.
Opener 'We Are Looking For Space Mushrooms' is a hypnotic space rock jam akin to Acid Mothers Temple or Syd Barrett era Pink Floyd with a lolloping bass line that drives this beast to a fitting crescendo, 'Space Bubbles' is a bad trip to a sci-fi nightmare with only the sound of the distant harmonica to keep you safely grounded to earth. Back on terra firma and the closing track 'Space Cruising' sees these guys blasting out another acid-rock jam with some monstrous drumming from Mike Shoun, 'Black Flowers..' is an improvisational style in a more rock setting and the key word here is definitely psychedelic.
Norman Records (U.K)
http://www.normanrecords.com/